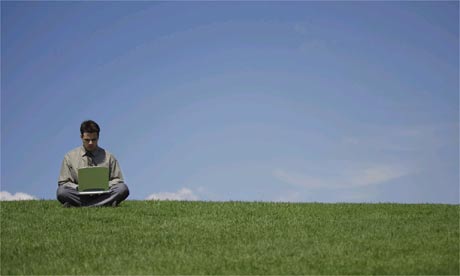 The Guardian group announced three new journalism vacancies last week. Headline news in itself these days.
But with these new 'beat blogger' positions, the Guardian has unveiled what could very well be the future of journalism.
The job description reads:
The Guardian is launching an initiative in Edinburgh [Leeds and Cardiff] and would like to recruit a blogger interested in creating and curating local multimedia content (text, photographs, audio and video) for their city.The successful candidate will be a confident blogger, know their yelps from their tweets, have a passion for local news and understand how to build relationships with the local community. A journalism qualification is desirable but not essential.Working from your home, or anywhere with WiFi, as a 'beatblogger' you will lead the Guardian's innovative approach to community news coverage in Edinburgh.This will include reporting on local meetings and events with an emphasis on local political decision making, identifying issues of importance to local residents and signposting information and news provided via other sources. You will be willing to collaborate with others to create a vital resource for the city.
This is a completely new role for the Guardian, which we believe reflects the shifting nature of journalism. Bloggers with open minds and a willingness to embrace new working methods can find more information, via the link below...
The Guardian are the first to take the steps into a future journalism business model which could be emulated throughout the country and beyond.
A model in which the majority, if not all reporters
could
be freelance beat bloggers. They live and work in the community with no ties to any office - have laptop, will travel. These beat bloggers provide the multimedia content (text, image, video, audio) onto a blog which in turn sits under the umbrella of a larger media company who sells advertising onto the blog and who cherry picks the best of the content for its core product, be that in print or online. The journalist gets a cut of the advertising revenue depending on the audience his/her content attracts and where that content is used.
The more content the blogger generates, the greater the audience and the greater the revenue share.
If indeed this is how beat blogging journalism develops and it is proven successful, the business model could be emulated across the country and beyond.
What do you think? A future vision of journalism?
Before you answer, you will want to jump across to
Sarah Hartley's blog
who answers some of the more immediate questions.
You can also see the full job descriptions for the beatblogger posts in
Edinburgh
,
Cardiff
and
Leeds
.